February Review and March Preview
Welcome to March – I haven't disappeared – for a month like February it was jam-packed with events a stories. Here is some of what we did and what to expect in the coming weeks.  
February Review – The month of February began with the Awesome OWOH 2010 giveaway! I am so sorry for being late with my visits to your blog site I will as soon as I can. There were so many amazing people on this world-wide giveaway and Fancy Nancy Clancy was the star prize with Fancy Nancy's Heart to Heart. Valentine's Day was full of charming, yet, frosty reads.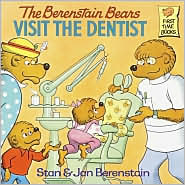 Dental Health – while February is Dental Health Month, make sure that your little ones are not leaving their good dental hygiene practices for the month of February. While we featured some great lost tooth tales a new section began for our storytime, Way Back Wednesday featuring The Berenstain Bears Visit the Dentist. It is a great book, a classic and has a great message about childhood fears and how to tackle them. 
March Preview:  March has sailed right in with some great books and themes to ponder. The start of this month featured some great local authors in the Lehigh Valley and an awesome author Anna Dewdney and her new book which will be released on March 9th, 2010 Roly Poly Pangolin. Dewdney the author who is famous for her Llama, llama series was featured in the Tuesday for Twos section of Allentown Children's Books Examiner. 
The Poky Little Puppy by Janette Sebring Lowery was our second Way Back Wednesday feature. Also my favorite book as a child. There is just something about this naughty, spotted and poky puppy that just makes you smile. Not to mention, the legacy and impact that the Little Golden books have had on Children's Literature for over 65 years. These authors paved the way for the budding writers and  illustrators today. While we need to keep abreast of new literature, applaud and welcome new authors; we should never forget those who came before, shaped the way children can learn to read and how these books were made available to many children during a time of high illiteracy and economic depression.
March will surely be filled with many "green' and "lucky" tales, we will also include some Preschool Tid-Bits and don't forget to subscribe and never miss storytime again. You can get to various places by scrolling the side bar and also stopping by other great sites and blogs.
Join us for March madness , mayhem and storytime! THE END 🙂