March: Review of Week Two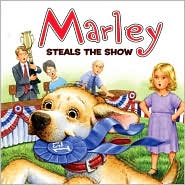 This week Examiner.com – Allentown Children's Books featured the latest of the Marley Series Children's Books. There is no doubt that Marley and Me: Life and Love with the World's Worst Dog by John Grogan was and still is a huge success.  The book was adapted for younger readers and the picture book series continues to create more and more adventures with the yellow Labrador named Marley. Marley Steals the Show is the latest in the series, following Bad Dog Marley!, A Very Marley Christmas and Marley Goes to School.  There are sure to be many more Marley adventures to share with children and hopefully for years to come. Visit John Grogan's website for all the Marley book titles. For more information visit www.marleyandme.com and read the full article review.

Penn State University Better Kid Care Network newsletter has announced the PA One Book reading initiative launch on April 13th, 2010. Something that shares the same early literacy philosophy and belief as Miss Shari's Storytime is Pennsylvania One Book Every Young Child.  Now in its fifth year, this collaborative effort of state and local agencies and organization, PA One Book initiative on reading is again emphasizing the importance of early literacy for young children.  One Book is more than just reaching out to children in an effort to give them a book – it is about educating caregivers, parents and teachers in ll aspects of literacy for young children. Teaching children about the whole book; its purpose, features and engaging children in activities to strengthen their pre-reading skills is the core of PA One Book.  PA One Book hopes to reach over 560,000 children this year in its reading initiative. Read the full article commentary on Allentown Preschool Examiner.