A shower of spring books…
Storytime has been showered with a lot of wonderful, colorful spring books. This last few weeks has been very busy and surely your March was a breeze right into April and Easter. So storytime has been very busy.
March ended with a featured read that was very colorful. A Promise in Every Color by Julie Sutton is an awesome picture board book with some special features – a ribbon rainbow threaded through the book as each color added. It's message too, is wonderful – peace, harmony, love and joy – we all need more of that for ourselves and our little ones. OF course since this book was a Hallmark Gift book it is in limited supply. See details and full article review here. There are also many colorful activities that you can plan with your students during this colorful time of year.
Since March hung around a bit and didn't really leave like a lamb, some lion and lamb literature was due as well. Easter came hopping around the corner like a jack rabbit and it was time for some Toddlers and Two's Features during storytime.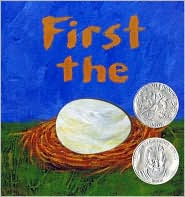 The age old question has still remained – Which came first, the chicken or the egg?  This charming little read was a perfect segway into Easter and a great toddler and twos story time choice. First the Egg by Laura Vaccaro Seeger, is just right for a springtime read. Its simple, succinct text along with its awesome and detailed oil paint illustrations leaves no doubt that it will engage young children. Although it is marked for children ages 4-8, young ones and twos will identify with simple illustrations and words inside.
This little read was followed by a basketful of famous and classic Easter reads and another little twos tale for that post Easter candy collection.
 We can't forget, though, a wonderful Easter read for this special holiday. The Parable of the Lily by Liz Curtis Higgs is a special and unforgettable Easter tale for children.  A great message for children as they join family in reflection throughout the year about God's love, promises and messages to us. In this parable story, again illustrated by Nancy Munger, Higgs uses a simple story with scripture to show how a simple and humble gift can blossom into a beautiful promise of hope and new life.  This parallel of Christ and the lily is an awesome message to children about the love, patience, kindness and sacrifice that was made for all humankind so long ago – the Easter message and the resurrection hope will remain alive and well for many years to come. Read the full article review.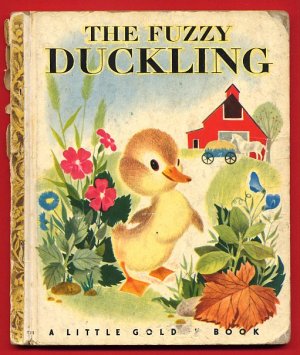 And now here we've come to this glorious spring season. Flowers are blooming, this sun is shining bright, the parks are filled with laughter, chirping birds and quacky little ducks. Yes this week we event went "way back" to a special Little Golden Book – The Fuzzy Duckling by Jane Werner. This quirky, quacky little tale is another seasonal read with counting skills, small problem solving and a happy ending.
It has been a busy month so far and there are more spring reads to come.
As the April shower come and the warm sun glows the flowers will bloom the air will be crisp and storytime will feature even more special springtime books and colorful tales. And as Mother's Day approaches we will be featuring some great mother daughter and mother child books for those special times. Happy Reading!