Lazy days of Summer: Sunflowers and lemonade
There is no doubt about it kids just love summer time. Nothing like lazy days, blueberry picking, running through the sprinklers, floating in the pool, ice cream, lemonade, planting flowers and catching fireflies. Yes summer seems to be the time when kids can really "grow".
Sooner than later your tweens and teens will be weighted down with summer reading, but while your little ones are relaxing during the months of June, July and August make summer reading fun, interactive, part of family time, part of family vacation and full of imagination.
Yes, this past week storytime featured two great loves of the summer sweets and flowers. No matter what the situation young children love learning new things. Maybe these stories cater to little gals but I feel they are worth sharing at storytime and why not during this hot sunny summer.
One sweet story featured is a bright little gal named Pinkalicious – in Pinkalicious and the Pink Drink by Victoria Kann. On a "too hot to play" summer day, Pinkalicious has a great idea for a lemonade stand to make money to by her bubble gum balls. But this lemonade must be special , just right and "pink" of course.  She adds everything pink, from watermelon to pink frosting. He customers are confused by the taste and "texture" of this pink drink. As, Pinkalicious whips up another batch, find out how and "if" she makes the perfect pink pitcher of lemonade.
A copy of Pinkalicious and the Pink Drink by Victoria Kann was provided, for review, by Harper Festival an imprint of HarperCollins Children's Books.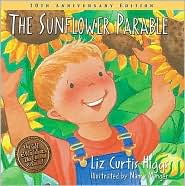 The next story come from The Parable Series by Liz Curtis Higgs. The Sunflower Parable is the perfect midsummer story.
As kids are waiting for school to start, remind them that there is much more of summer left that they can learn from and that waiting is part of life's days, months and seasons. Just as little Logan waits for his mighty sunflowers to grow tall and proud, so too must our little ones wait for many things. Logan also learns that although the sunflowers eventually droop and lose their seeds, their purpose is great and should be shared with many – just as God's grace and love should be shared.
So kick back and continue to enjoy the rest of this summer – patiently embrace the season. Happy Reading! 🙂